Noah had a public speaking project to prepare for and execute. When handed the assignment we discussed subject options. Noah favoured a "Potential Speech Topic" suggested by his school.
"My hero is……………………….(could be mum or dad)"
I was excited that Noah wanted to talk about his mum and why she's his hero.
A week later when it came to the crunch of actioning the speech and brainstorming the topic, Noah swiftly changed his mind.
Noah: "Dadda, I don't want to speak about mummy, I want to speak about Thor!"

Me: "Thor, the action Marvel?"

Noah: "Yeah, he's my favourite superhero, I want to do it on him"

Me: "Ok buddy, sure. Why don't you want to talk about your mum anymore?"

Noah: "I might cry in front of everyone."
Noah and I conversed at length about the benefit of discussing his mum and that it would be healthy for him to cry, even in front of his peers. I sensed he didn't want to tease apart emotions that murk below the surface.
I wasn't going to push him into anything he didn't want to do but I really thought this would be good for our grieving process. Noah is a little too stoic and has been talking less about his emotions as time goes on.
Me: "Hey Monkey, why don't we prepare for both speeches, you can read them out loud and then make your choice. I will support you 100% on your decision.

Noah: "Ok dad."
I was really happy with this direction because if he didn't choose to do his speech on Lou, he and I could still talk about his mum in detail and a structured format through the speech preparation process.
I discussed the approach and considerations with both his teacher and grief councillor which was a validating experience.
We prepped for both speeches until late on Sunday night. It was an emotional process for both of us.
In the morning before school on Monday, he read them both out loud and promptly said:
"Dad, I know which one I want to do!"
I was all ready to support his favourite Marvel, which I had grown to like after learning about what makes this superhero tick. I was certain he would take this option and avoid exposing his heart and vulnerabilities to his colleagues.
"Dad, I want to speak about mummy!"
As composed as I was, I could have lept out of my skin with pride.
What a brave little warrior.
Speech:
In this world, cells make up all living things, including the human body.

With cancer, some cells grow out of control.

When I was five years old, my mum got cancer.

My mum's bad cells grew out of control and formed tumours.

These tumours made my mum very sick and stopped my mum's body from working properly.

My mum never gave up!

She said she wasn't scared of dying but she was scared to leave Evie and me behind without her.

She fought every minute of every day to stay alive. For me.

My mum had many operations. She had lots of chemotherapy and radiation to try and stop the tumours. This treatment made her very sick and lose her hair.

She was still very pretty with no hair.
No matter how sick my mum was, she always smiled at me and cuddled me.

Evie and I made her feel better. We were the only medicine that made her feel good.

She tried everything possible to beat the tumours. She never gave up!

Unfortunately, some cancers can't be stopped.

On the 12th of January 2019, my mummy died.

Everyone loved my mum.

My mum was always happy and smiling.

My mum shared her time with everyone.

My mum was very generous.

My mum was beautiful on the outside but even more beautiful on the inside.

My mum loved dancing and drinking champagne.

Mum wanted to be the best mum in the world.

My mum was the best mum in the world!

I want to be like my mum because my mum is my hero.

My dad says that I am his hero for how brave I am.

But that's a story for another time.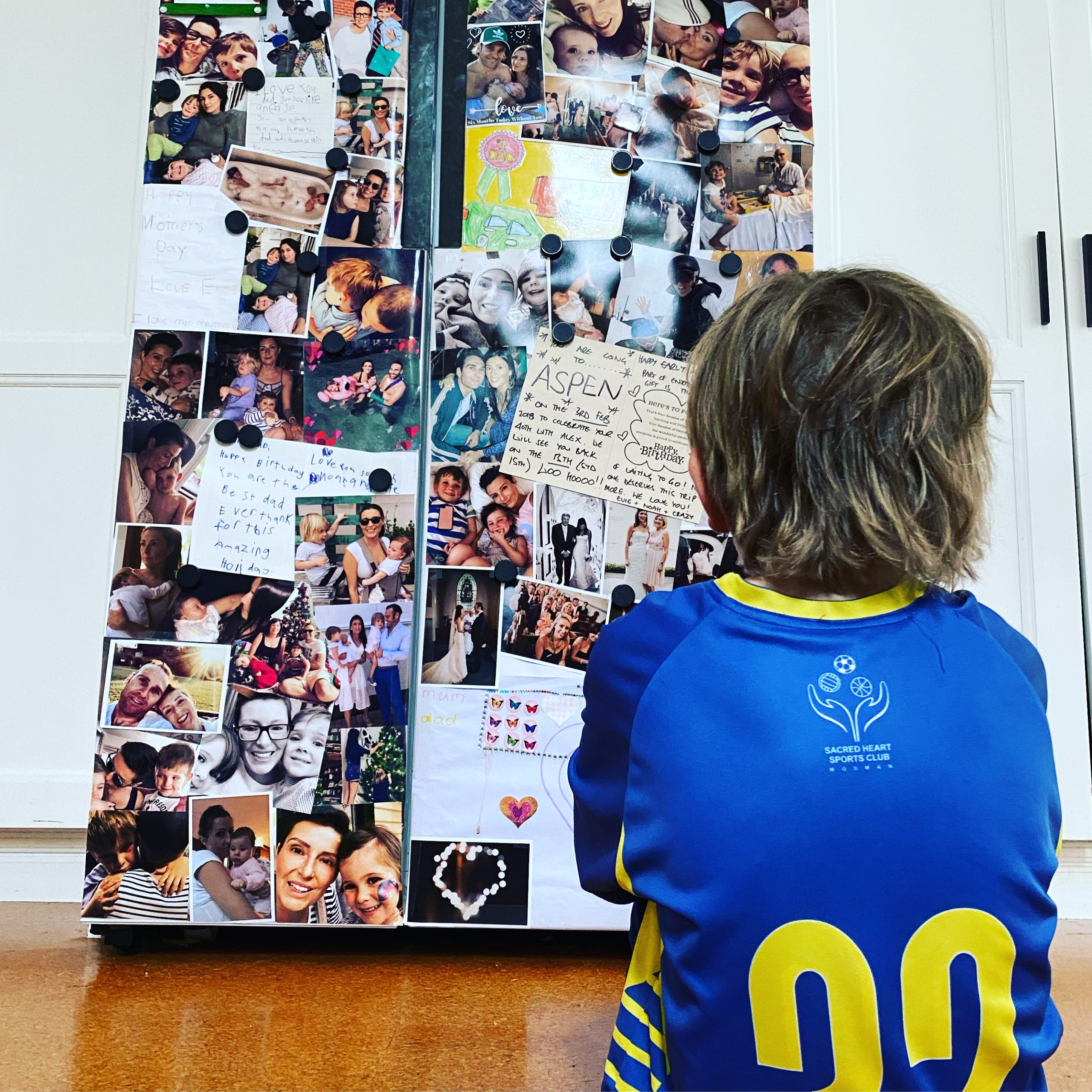 Leave a comment for Noah so he can read them 🤗……