I just spent two hours at the track and I've reset my brain.
I know some people, actually a lot of people, probably wonder why I participate in action sports that come with a high risk of injury. Especially now that I'm far from the reckless age of a teenager, and double especially that my wife's outcome with stage four cancer comes with uncertainty. Just so you are aware, I do wonder about my risky interests more than you.
I have always been addicted to the substance released into the body through excitement. Adrenaline. Some may think it's audacious behaviour, perhaps negligent or downright stupid. Of course, you're welcome to your opinion.
I do think there is a blurred line between the pursuit of seeking intense experiences without regard for physical risk, verse activity that has a high level of danger even though you do all within your power to keep your limbs intact.
So, my ride today: Motocross would be arguably one of the most physically demanding sports on the planet. In my current state of fitness, riding at the threshold of my ability, I have about thirty minutes before muscles start to pack it in and I need a recovery period between sessions. For that thirty minutes, I am in a mentally clear state and while my heart rate might be through the roof and lactic acid is ballooning all limbs, I am emotionally neutral. Isn't that what people aim to achieve through meditation?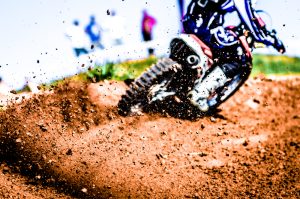 Why do people meditate? To reduce stress, anxiety, depression and pain. They do it for well-being, psychological, neurological and cardiovascular benefit. Extreme athletes professional or recreational go hard for the same reason, even if they are consciously unaware and self-medicating ignorantly.
For me, it's a combination of getting your buzz-on and concentrating so hard your mind has to be 100% clear, bar the exact moment. If you don't get that front wheel in the deep rut entering the turn and your balance not weighted correctly, you will fall off. You're thinking of nothing besides entering and exiting that corner. Because if you fall off you'll hurt something.
On approach to a jump, if your brain hasn't matched the distance you need to be in the air to the speed of your bike and you end up short or long, you're a very good chance of eating dirt. Throw thirty other riders on the track, perpetually varying conditions and the power of hundreds of horses under your ballbag and the intensity is intoxicating. All of those horses at your disposal at the flick of the wrist, you have no choice but to "meditate." Mediate or get a lift from the track in an HCF funded white van with flashing lights.
I've had to retire from one-off thrill seeking events that are a probable bad ending. The physical disregard I mentioned earlier. I've done this reluctantly, but your age and precious offspring become a priority. However the ongoing desire to progress at a sport, MX, skiing, skateboarding or whatever your poison, the combination of skill, concentration and risk will never leave you. Participating in these sports is a basic need, not a compulsive behaviour, I don't doubt this one bit. It's meditation, medication and an expensive session on the couch, all rolled into one therapy that works better than any other treatment.
Think about how powerful those endorphins and adrenaline are and why they're so addictive. You can get hurt playing footy, even break something and not even realise until the 80-minute whistle sounds. That internal drug is stronger than morphine less expensive and good for your health, fact. For the extreme sports 'junkies" and contact sports participants, science would prove our brains flood more dopamine during activity than the safe and conservative. That feeling of pleasure will always have you going back for more.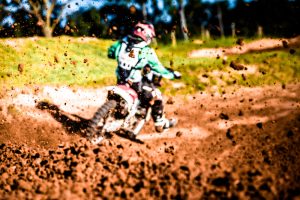 The overcoming of nervousness and fear is like an emotional reward, it leads to feelings of well-being and positive psychological outcomes, a constant sense of achievement. I honestly don't know if I am addicted to the biochemical reaction within the brain that leads to that epic state of joy, or the activity itself.
I won't grow out of it, it's in my DNA. It's a matter of minimising serious risk but having enough fun to clear my thoughts, reset my brain, look forward to the next session and enjoy living. Unfortunately, I will break another bone or two in the years ahead of me, I don't want to but it's inevitable. I hope to all the gods it's never serious.